Recurrent IVF Failure is the failure to achieve a pregnancy after several IVF efforts. Recurrent Implantation Failure (RIF) is very unsatisfying for patients and Doctors. After a failed IVF cycle, it will be important for your IVF specialist to go over your file and correlate previous test results with the details of the failed cycle.
We have had patients achieve pregnancy on their very first IVF cycle and we have seen patients achieve pregnancy on their fifth cycle! In such cases, when the problem is with egg count or quality, the treatment protocol can be modified and a more aggressive approach can be adopted to maximize ovarian response. Depending on the patient's age bracket, ovarian function, and the nature of the specific problem. For a better assessment, your case will need to be analyzed with all aspects included because each patient will necessitate a different approach.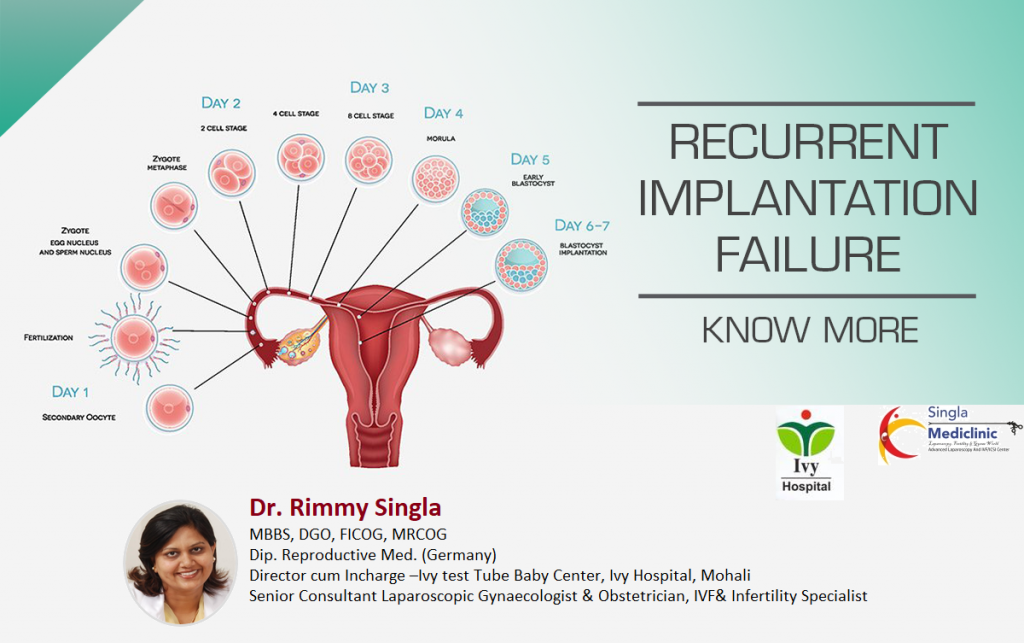 Failure could be caused by many different issues such as:
•Attempted pregnancy at an advanced age.
•Structural complications with the uterus, ovaries, or fallopian tubes.
•Endometrial receptivity problem.
•Systemic maternal factors.
•Genetic factors of (one of) the potential parents.
Other Reasons:
Uterine infection
Immune factors as a cause for IVF implantation failure
Thrombophilias
The mutual approach is taken by fertility/IVF specialists to treat recurrent implantation failure usually emphases on the following:
•Embryo quality.
•Efforts made to modify medication protocols.
•Utilizing chromosomal screening techniques like preimplantation genetic screening (PGS), or oocyte donation.
Just as important as providing sound medical advice and treatment, we also strive to foster strong partnerships with our patients through consistency and open communication, which help to ease the psychological burden of continuing fertility treatment under difficult circumstances, Singla Mediclinic specializes in Recurrent Implantation Failure (RIF) with the following approach:
•Friendly and receptive office environment with warm, caring staff.
•Experienced IVF Specialist practising exclusively in the Mohali,Chandigarh Panchkula, Punjab Location.
•Direct access to Doctor via email or phone with less than 24-hour response time.
•Extensive knowledge and experience in identifying and treating immunologic dysfunction and optimizing endometrial receptivity.
•Advanced embryology laboratory with PGS/PGD capabilities.
Recurrent failures//nil sperm//icsi//tesa//pesa//microtese// stem cell// for poor Endometrium// stem cell therapy//immunological therapy//DNA fragmentation index//picsi to choose for best sperm and various facilities under one roof// very friendly environment with renowned Dr Rimmy Singla // call at 91-9815500448//+91-9815550124
Helpline number for getting any information about Pregnancy and Covid-19 Contact: 9815500448, 9815507974