Testimonial of a patient who underwent laparoscopic surgery for Ovarian Tumor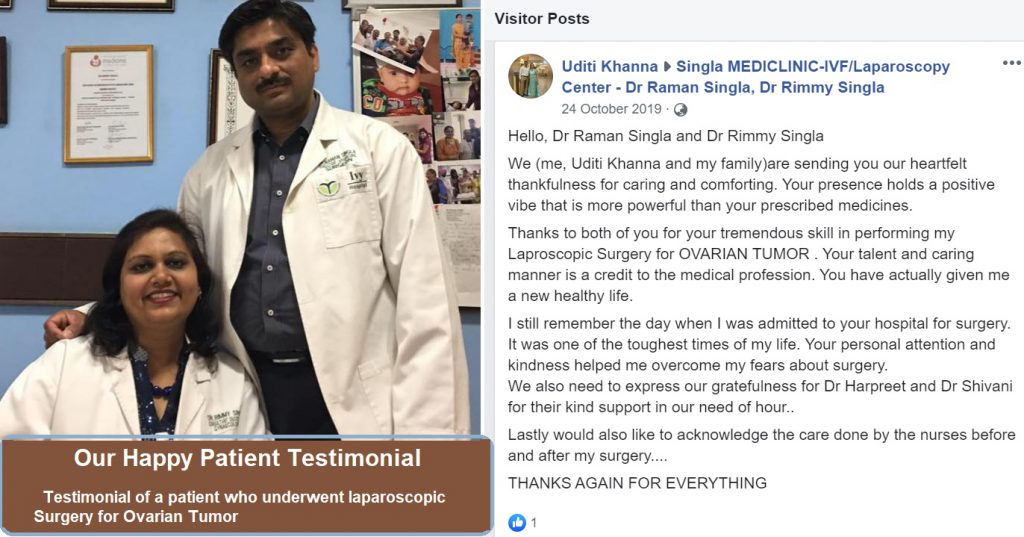 Hello, Dr. Raman Singla and Dr. Rimmy Singla
We (me, Uditi Khanna and my family)are sending you our heartfelt thankfulness for caring and comforting. Your presence holds a positive vibe that is more powerful than your prescribed medicines.
Thanks to both of you for your tremendous skill in performing my Laproscopic Surgery for OVARIAN TUMOR . Your talent and caring manner is a credit to the medical profession. You have actually given me a new healthy life.
I still remember the day when I was admitted to your hospital for surgery. It was one of the toughest times of my life. Your personal attention and kindness helped me overcome my fears about surgery.
We also need to express our gratefulness for Dr Harpreet and Dr Shivani for their kind support in our need of hour..
Lastly would also like to acknowledge the care done by the nurses before and after my surgery….
THANKS AGAIN FOR EVERYTHING